Position
Farm holidays in the Dolomites
The agritourism Pradac is located in Ortisei at apporximately 1.2 km from the town centre on the edge of the forest in a very tranquil and sunny position with a marvellous view over the mountains of the Dolomites. The bus-stop is located only a few steps from our house.
How to reach Val Gardena
The simplest way to reach Val Gardena is to follow the Brenner Motorway A22. Coming from north, follow Innsbruck-Brenner-Chiusa. Coming from south, follow Verona-Trento-Bolzano. Take the "Chiusa/Val Gardena" exit. After about 12 km, along the panoramic road SS242, following the road signs to "Val Gardena/Grödental", you will reach Ortisei.
Once you have arrived at Ortisei, follow the green hotel route and you will reach via Mureda. After about 1 km there are public parking lots on the left and on the right side is our covered parking and farm.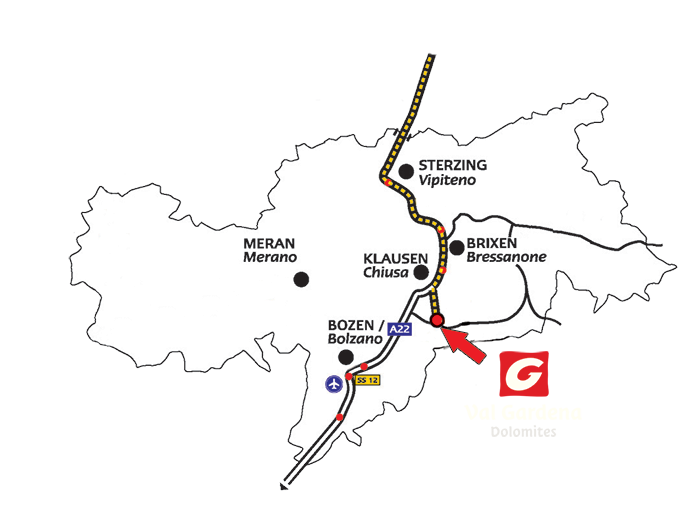 By tryin
IC- and EC trains take you to Bressanone and Bolzano. Some trains stop in Chiusa too. A regular bus service (SAD) will carry you to Val Gardena in about one hour.
By taxi
Do you plan to take a Taxi? There are several Taxi services in Val Gardena which will safely transport you to your desired destination.
Aereo
The nearest airports are the following:
(IT) Airport Bozen: 43 km – ca. 50 minutes
(AT) Airport Innsbruck: 120 km – ca. 1 hour and 20 minutes
(IT) Airport Verona - Villafranca: 190 km – ca. 2 hours
(IT) Airport Brescia: 235 km – ca. 2 hours and 30 minutes
(IT) Airport Bergamo – Orio Al Serio: 270 km – ca. 2 hours and 45 minutes
(DE) Airport Munich: 315 km – ca. 3 hours
(IT) Airport Milano: 400 km – ca. 3 hours and 30 minutes